We are a graphic design agency with a focus in branding identity and packaging design.
At Springer Graphic Design, Inc., we bring over a decade of real-world experience in both print and digital design, delivering exceptional graphic design solutions. Our team, led by seasoned brand designer Sarah Piha, combines aesthetics and usability to create visually appealing and practical designs. With a focus on seamless collaboration and expert talent selection, we ensure every client and project receives the highest level of creative expertise. From our central Massachusetts roots to our West Coast base in San Diego, we have collaborated with clients across diverse industries, leveraging our insights and state-of-the-art systems to provide captivating designs tailored to your business.

We take immense pride in our notable achievements, having worked on projects that have graced shelves, screens, and displays around the country. Our clients have been showcased in renowned platforms such as Ted Talks, Comedy Central, the Kelly Clarkson Show, the Drew Barrymore Show, and prestigious publications. We bring this rich experience and expertise to every project we undertake, ensuring that your brand receives the same level of excellence and exposure. With a commitment to delivering exceptional results and a passion for pushing the boundaries of design, we are dedicated to helping your business stand out and make a lasting impact in today's competitive landscape.
Over a Decade of Experience
With over a decade of honing our craft, our graphic design agency has become a trusted partner, delivering exceptional design solutions that have stood the test of time.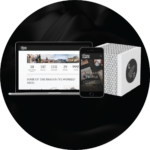 As experts in brand identity, we excel at crafting impactful logos, comprehensive brand guides, immersive brand buildouts, and captivating websites that seamlessly capture and communicate the essence of your business.​
With meticulous attention to detail, our logo designs are crafted to make a lasting impact, representing your brand's unique personality and establishing a strong visual identity that resonates with your audience.​
Our packaging designs are thoughtfully created to captivate consumers, ensuring your products stand out on shelves and leave a lasting impression. With a perfect balance of creativity and functionality, we bring your brand to life through innovative and visually compelling packaging solutions.​
Sarah was an absolute pleasure to work with from start to finish she was efficient professional and communicative . Would definitely recommend her services to all.
CEO, Christy Ann Cosmetics – New York